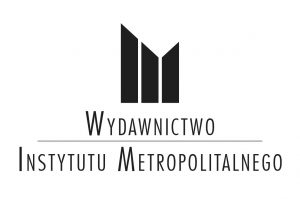 The Metropolitan Institute (www.im.edu.pl) is a non-governmental organization and a public benefit institution that serves as a think tank. It performs expert activities in the sphere of local and metropolitan policy, fulfils public tasks commissioned by administrative bodies, conducts research in the field of law, administration and urban planning, and also creates public discourse in these areas.
Among various activities, the Metropolitan Institute also performs publishing activities. It publishes one-time publications (e.g. scientific books, collective works, comments) and conducts permanent publishing house which issues, in particular – Metropolitan. The Scientific Journal.
In order to organize publishing activities in a professional manner, the Metropolitan Institute set up the publishing house of the Metropolitan Institute. It is an internal organizational unit of the IM fully focused on the subject activity.
We are pleased to recommend it and encourage you to cooperate with it.